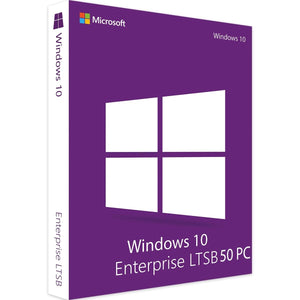 Windows 10 Enterprise LTSB 2016 50 PC
Windows 10 Enterprise LTSB 2016 50 PC
Supports 50 PCs
50 Installation
Licensed for Home and Commercial Use
Windows 10 Enterprise LTSB 50 PC is a special version of Windows 10, which allows business customers to operate without function updates. It is intended for certain computer systems that require service updates for several years but do not use many Windows 10 apps. These include ATMS, point-of-sale systems or computers that control medical equipment. Such computers typically perform only one specific and important task, which is why they can do without the feature updates of classic office computers. 

A stable and secure operating system for companies

Windows 10 Enterprise LTSB is suited for computers that demand ultimate stability and protection against external threats. Changes in the user interface are of little importance for these devices. For these reasons, the LTSC or LTSB licensing model prevents computers from receiving the otherwise common feature updates. Only the regular service updates that ensure security are recorded. Thus, it is a Windows 10 version without Apps, Store, Cortana and Edge. For daily use in the office, however, it makes no sense to set Windows 10 Enterprise LTSB. 

Version with long-term support

LTSB stands for "Long Term Servicing Branch", because it is the "branch" of Windows operating systems that is supported for up to 10 years. Of these, 5 years are the standard period and a further 5 years can be purchased as an extension. The name of this service branch will change in 2018/2019 to "Long Term Servicing Channel" (LTSC). In contrast to the "Semi-Annual servicing channel" common in the office, there are never feature updates via LTSC. Instead, a new LTSC version of the operating system is released every two to three years. Users can decide whether to upgrade to this version or to stay with the originally purchased version for up to 10 years. The workload of the company's own IT employees can therefore be minimised with Windows 10 Enterprise LTSB.

Processor 1 GHz CPU, x86 or x64 processors and SoCs
Memory 1 GB (32-bit), 2 GB (64-bit)
Graphics card SVGA (32 Bit per Pixel)
Sound card n.a.
Hard disk 16 GB (32-bit), 20 GB (64-bit)
Screen minimum resolution 800x600 pixels, recommended minimum resolution 1366x768 pixels
Trusted Platform Module (TPM) - required
UEFI Secure Boot - required
Shipping Time: 
Ground: 1-2 days processing time. 4 - 10 Business days for delivery