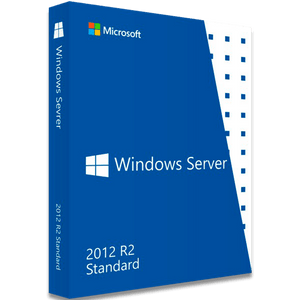 Windows Server 2012 R2 Standard 64bit
Enterprise-class datacenter and cloud platform
Simply implementing a virtualized solution within your infrastructure is not enough to provide the agility today's IT challenges require. Windows Server 2012 R2 changes the virtualization equation by enabling you to deploy and manage a multitenant cloud infrastructure within a flexible IT environment that adapts to your changing business needs. The enhanced features in Windows Server 2012 R2 empower you to efficiently utilize the capacity of your datacenter, while delivering best-in-class performance for your Microsoft workloads. Access to corporate resources such as workloads, storage, and networks help increase the agility of your business while protecting corporate information. Offering a proven, enterprise-class cloud and datacenter platform, Windows Server 2012 R2 can easily scale to continuously run the largest workloads with support for up to 64 processors and 1 terabyte of memory for Hyper-V guests, and VHDX virtual hard disks up to 64 terabytes. In addition, powerful availability features protect against service outages. And with automated protection and recovery for cost-effective business continuity on-premises and across clouds, you can improve your workload SLAs while reducing downtime risks. To help you protect your investments in existing cross-platform technologies, Windows Server 2012 R2 also offers expanded support for a heterogeneous datacenter, including rich Linux support.
Simple and cost effective
Windows Server 2012 R2 enables you to blend your on-premises solutions with the cloud without having to re-engineer infrastructure, systems management, or applications.
Application focused
Windows Server 2012 R2 enables you to build and deploy applications in your datacenter that utilize higher-level, cloud-based application services and APIs that are compatible with service provider clouds and Windows Azure. This functionality provides improved application portability between on-premises, public, and partner hosted clouds, increasing the flexibility and elasticity of your IT services. Windows Server 2012 R2 also provides frameworks, services, and tools to increase scalability and elasticity for multi-tenant aware applications and websites. Features such as NUMA-aware scalability, centralized SSL certificate support, and application initialization help improve site density, site scalability, and performance. The best platform for the .NET framework, Windows Server 2012 R2 also offers enhanced support for open frameworks, open source applications, and various development languages.
User centric
Windows Server 2012 R2 empowers end users by helping provide them access to information and data regardless of the infrastructure, network, device, or application. Your IT staff can provide consistent access to corporate resources by managing and federating user identities and credentials across the organization and into the cloud, while providing secure, always-available access to your corporate network. Windows Server 2012 R2 also makes it easier to deploy a virtual desktop infrastructure (VDI) and lowers costs by supporting a range of storage options and storage deduplication for VDI.
Shipping Time: 
Ground: 1-2 days processing time. 4 - 10 Business days for delivery