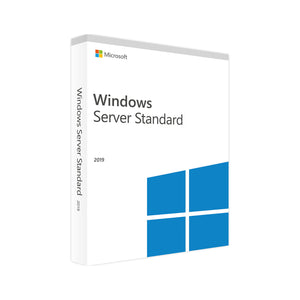 Windows Server 2019 Standard 64 bit
WINDOWS SERVER 2019 STANDARD
The new Windows Server 2019 is here to supply users with cloud-ready solutions and high-performance servers. Every business and corporation needs a reliable way to manage, store, and share files within themselves and with clients. With the many new features found in this release, you can take full advantage of what Microsoft offers in the Standard edition.
Don't limit yourself and move forward with the innovative features and tools of Windows Server 2019 Standard. Adjust your company to the demands of modern industries, such as cloud functionality and effective virtualization.
The Standard release is optimized with physical or minimally virtualized environments, perfect for small- to medium-sized businesses. The affordable licensing model combined with the benefits you get when working with a sophisticated server solution makes this purchase worth your money.
With more options to manage and keep track of your server's health, you can easily make critical decisions and take your business forward. The modernized interface, different deployment options, insightful reports, and improved security all work together to secure your safety and comfort when handling your business
Shipping Time: 
Ground: 1-2 days processing time. 4 - 10 Business days for delivery