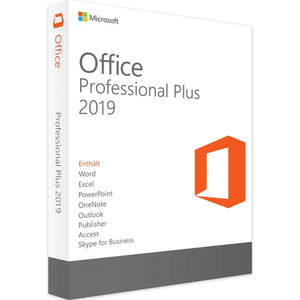 Microsoft Office 2019 Professional Plus 5PC Lifetime License
Regular price
$119.00
Sale price
$159.00
MICROSOFT OFFICE PROFESSIONAL PLUS 2019 5PC
Upgrade to Microsoft Office Professional Plus 2019 and unlock the full potential of your work. Experience the latest features, enhance collaboration, and achieve more with this state-of-the-art productivity suite. Invest in your success today and elevate your productivity to new heights.
Include in the package:
Supports 5 User / 5 Device 
Runs On Windows 10  only 
5 Installation
Licensed for Home and Commercial Use
Upgrade your productivity with Microsoft Office Professional Plus 2019. This powerful suite of applications, including Microsoft Word and Office Outlook, is designed to enhance your workflow and boost efficiency. With the latest features and enhancements of Office 2019, you can take your work to the next level.
Create professional documents with Microsoft Word, a leading word processing tool that offers a wide range of formatting options and intuitive editing capabilities. From reports to presentations, Word equips you with the tools you need to express your ideas effectively.
Stay organized and on top of your tasks with Office Outlook. This comprehensive email and calendar management software helps you manage your communications and schedules efficiently. Never miss an important appointment or email again.
Microsoft Office Professional Plus 2019 encompasses a complete suite of applications, including Excel and PowerPoint. Analyze data and gain valuable insights with Excel's advanced formulas and powerful data visualization tools. Create impactful presentations with PowerPoint, complete with stunning visuals and seamless transitions.
Collaboration is made easy with Microsoft Office Professional Plus 2019. Share and co-author documents with colleagues in real-time using cloud storage solutions like OneDrive. Work together seamlessly and ensure everyone is on the same page.
With enhanced security features, Microsoft Office Professional Plus 2019 keeps your sensitive information protected. From document encryption to advanced threat protection, your data is safeguarded against potential risks.