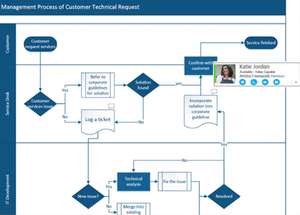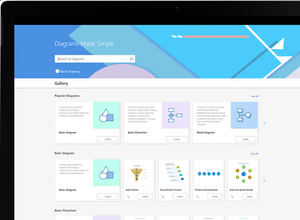 Microsoft Visio 2019 Professional
MICROSOFT VISIO 2019 PROFESSIONAL
WHAT'S INCLUDED:
Supports 1 User / 1 Device
Runs On Windows 10 Only
Licensed for Home and Commercial Use
Visio is a powerful tool mainly used for applying diagramming and vector graphics in your documents. Visio enables you to create professional diagrams with tools that are easy to use and understand for anyone. The list of things you can create is only limited by your very own imagination. Make professional flowcharts and diagrams, floor plans, engineering designs, org charts and more. The offered shapes and templates enable you to create appealing designs for any purpose you need to use Visio for. 
Additionally, you can work together on your designs with other people, as with Office 365 multiple team members can work on a Visio project at one, all in real time. You have the option to update your data with real-time information as well, if selected, this formatting automatically updates your data to reflect a change as it happens in the world.
Visio is available in more than one edition as well as different plan options, as Microsoft currently offers two different online plans in addition to a Standard and a Professional version of the software. Each version contains the base capabilities of Visio, but high-end editions such as Visio 2019 Professional offer more features that tend to meet the needs of more demanding customers that run small to medium-sized businesses or organizations.
WHY BUY MICROSOFT VISIO 2019 PROFESSIONAL?
Visio is the ideal tool for creating complex processes, illustrating diagrams, workflow charts, sales history and projection, and business relationships. It has a toolset that lets you take a plan from concept to completion and build visual presentations for any project. Visio 2019 Professional continues to empower users to put detailed concepts into charts and diagrams that can be shared with your employees.
Communicate and share your ideas with complex flow charts, timelines, maps, organizational structure, IT architecture, or sales figures and company progress. You can even use a browser with Visio Services in Office 365 or SharePoint to further develop and share your ideas. As your data refreshes, your diagrams refresh instantly in the browser. This means you can work together as a team on the same diagram at the same time and easily see comments in both Visio and Visio Services.
Visio is extremely easy to use for everyone from IT professionals all the way over to entry-level customers. Familiar functions such as drag and drop, aligning positions of assets or text, and auto-connecting for shapes or other elements make building your diagrams more efficient and fast. Give your work a more professional, visually appealing design with the pre-made templates, effects, and shapes. To access your data anywhere, use Visio Online, which allows you to view all of your data from anywhere, at any time you might need it.
 Shipping Time: 
Ground: 1-2 days processing time. 4 - 10 Business days for delivery