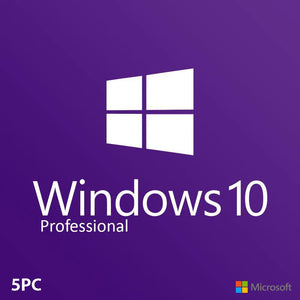 Microsoft Windows 10 Pro 5PC
MICROSOFT WINDOWS 10 PRO 5PC
Supports 5 Users / 5 Devices
Licensed for Home and Commercial Use
Microsoft Windows 10 Pro – best for small businesses that want enhanced functionality.
Windows 10 Pro provides all the features of Windows  Home + powerful management tools and enterprise-grade security.
Windows 10 Pro is built for business
Simple and flexible management – Windows Pro is user-friendly and flexible: connect to business resources with Azure Active Directory.
____________________
Share and work on documents in real time
_____
Your Office files like Excel, Word, and PowerPoint automatically get stored in the cloud, which acts as a virtual online drive, so you can share and work on documents in real time.
Use your Windows 10 Pro PC anywhere
_____
Start editing a document in the office, keep working on it in the coffee shop on your phone, and finish up on your home PC. You can connect to your business or school Domain or Azure Active Directory to use network files, servers, printer and more. All you need is an internet connection and Remote Desktop.
Cortana is your personal digital assistant
_____
Cortana can provide notifications about appointments and deadlines, suggest documents you may need for an upcoming meeting, and keep your group calendar in sync. Easily create, modify, and open lists with just your voice. And Cortana seamlessly integrates with other Windows apps, like Sticky Notes, Ink reminders, and Microsoft To-Do events.
The multitasking features with Office.
_____
You can arrange your screen however you want. Easily manage multiple Office apps and docs on one screen, and effortlessly snap up to four of them to optimize your workspace. You can also slide the shared edge of snapped apps to wherever you want it, easily resizing both apps in a single motion.
Microsoft Windows 10 Pro – an intuitive user experience
An intuitive user experience, with built-in tools such as inking, tablet mode, and touchscreen.
____________________
Start Menu is Back
Windows 10 brings back an old favorite with the Start Menu for ease of access and quick lookup. It also features Cortana for voice assisted control in the start menu.
Windows 10 Continuum
With Windows Continuum you don't have to choose between mobility, touch or desktop peripherals. Continuum allows for devices running Windows 10 to switch between tablet and adding keyboard and mouse for desktop mode.
Windows Autopilot
_____
With Windows Autopilot, start using your new Windows 10 Pro devices quickly, without IT help. Enjoy simple and flexible management.
Windows Ink
_____
Quickly access a Windows Ink Workspace with the click of a digital pen or straight from your taskbar. You can even pull up the Ink Workspace before logging in.
Microsoft Edge
_____
Microsoft Edge is the faster, safer browser built for Windows 10. It's optimized for the modern web, but is still compatible with legacy apps and sites.
Always on security
The most significant new Windows 10 security feature involves a major improvement in authentication, based on biometric factors. Get essential business security features, built right into your device including BitLocker, which protects against loss of business information even when a device is lost or stolen.
____________________
Windows Hello
Sign in to your Windows devices with Windows Hello in less than 2 seconds?3 times faster than a password. Facial or fingerprint recognition provides instant access, and you always have the option of retaining a PIN as a backup.
BitLocker
Keep your files safe with BitLocker, and get the same security on removable storage devices with BitLocker to Go. Windows 10 lets you create your own private app section in the Windows Store for convenient access to company applications
Block malicious software
To block malicious software after the boot process is complete, Windows 10 includes two signature features that will be new to any organization that is migrating directly from Windows 7: Windows Defender and Windows SmartScreen