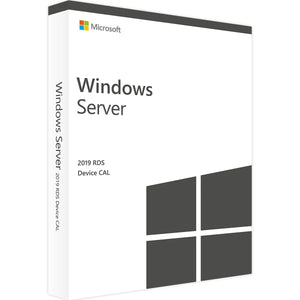 Windows Server 2019 RDS – 50 Device Cal
WINDOWS SERVER 2019 RDS – 50 DEVICE CALS
WHAT'S INCLUDED:
Windows Server 2019 Remote Desktop Services 50 Device CAL's Product to add 50 DevicesLicense Key supports any Windows Server 2019This Product will install Remote Desktop Services 50 DEVICE CAL on your Windows Server
Product information Windows Server 2019 RDS – 50 Device CALs
The Windows Server 2019 RDS – 50 Device CALs are part of the flexible licensing system for Windows Server 2019. They are assigned to ten specific company devices. These devices can subsequently be used by any number of users to access the server desktop functionality. RDS stands for "remote desktop services" and refers to the functionality enabling users to work with graphic desktop and Windows applications via remote access. Desktop networks can be managed centrally using the appropriate client access licences (CALs). In addition, any potential Windows Server 2016 Core licences already in existence can be used in combination with the 2019 device licences. This gives the IT department in a company more time to transition to the latest version of the server operating system. The "Express Updates" function will also help save time installing updates in future.
Useful modifications from the previous version
Buying Windows Server 2019 RDS – 50 Device CALs means you can rely on a server operating system based on Windows 10. Windows Server 2019 is the successor to Server 2016, from which it has inherited plenty of excellent functionality. In addition, there are innovations and changes which should make operational processes even more efficient and secure. Amongst other things, the Windows Subsystem for Linux is now supported. So Linux distributions can now be integrated in the Windows installation. Linux commands can now also be administered from Windows servers. The use of the enhanced security concept "Shielded VMs" also has a contribution to make in this area. Thanks to the support for Kubernetes, company staff can develop and manage containers. In addition, Windows Server 2019 offers full support for IPv6 for networks. The operating system also enables system-wide monitoring of both the hardware and the network. Technologies such as virtual network peering are used to achieve this.
Bringing server systems up to date
An up-to-date server operating system is adapted to handle lots of modern challenges. It allows user to work with current software. With this in mind, Windows Server 2019 RDS – 50 Device CALs are optimised for collaboration with Microsoft Azure. For instance, users on a licensed device can incorporate Azure Backup for straightforward data synchronization and data backups. And data from the cloud can be transferred via Azure files onto the file server. In addition, Windows Server 2019 emphasises enhanced all-round protection for important company data. The encryption for data and file servers has been revised. The server operating system now works directly with Windows Defender Advanced Threat Protection (ATP). To support the antivirus software, the server can in future detect threats such as rootkits and zero-day attacks itself and instigate the relevant protective measures. Consequently, users with a device licence for Windows Server 2019 benefit indirectly from useful new features in the server operating system.
Buy Windows Server 2019 RDS – 50 Device CALs
Purchasing device licences for Windows Server 2019 can make sense for both medium and large enterprises. A stationary computer can be licensed, as can a laptop or control station. If employee duties are organised so that multiple people share a single computer, it is more cost effective to assign the device with a licence. When purchasing a licence it is important to remember that additional licences will be required for the server kernels. Before you decide to purchase Windows Server 2019 RDS – 50 Device CALs you are welcome to contact our team.