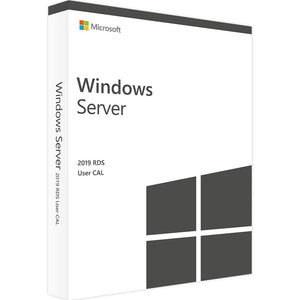 Windows Server 2019 RDS – 50 User Cals
Windows Server 2019 Remote Desktop Services User CAL's 50
What's Included
This will install Remote Desktop Services 50 USER CAL on your Windows Server
Please note that this key will add Remote Desktop Services CALs to your existing Pre-Activated Windows Server. It cannot be used to Activate your Windows Server.
Windows Server 2019 RDS - 50 User CALs"

Windows Server 2019 RDS - 50 User CALs allow ten individuals to access the services on a Windows Server. A CAL is needed for the Standard Edition of the operating system, just as it is for the DataCenter Edition. The owner of a user licence can access a Windows Server from various devices - for instance, from an office computer or on the train from their laptop. This makes User CALs particularly suitable for staff who do not work exclusively at a fixed computer. For instance, if a company has lots of employees who work from home or who engage in regular business trips, the use of User CALs, rather than Device CALs, should be considered. 
Secure server environments for businesses
The Windows Server 2019 RDS - 50 User CALs use the Windows Defender Advanced Threat Protection (ATP). This function in Windows Server 2019 detects attacks at memory and kernel level. Platform sensors are utilised for this purpose and the execution of harmful files can be stopped. Another helpful security function in Windows Server 2019 is the Windows Defender ATP Exploit Guard. This has four components that protect against attack vectors and block typical malware behaviour. The Attack Surface Reduction (ASR) technology also assists companies in preventing malware getting onto employees' computers. The ASR control elements prevent corrupt scripts or files from being used. Additional network protection for the operating system is achieved by blocking outgoing processes on the registered user devices unless they are addressed to trustworthy hosts or IP addresses. Additional measures such as controlled directory access and Exploit Protection help minimise the threat from ransomware, malware etc. 
Access to a highly sophisticated server operating system
Buying Windows Server 2019 RDS - 50 User CALs also offers greater support for Linux and virtual computing than previously. Among other things, there are Office enhancements, such as the new fallback HGS and offline mode functions. Troubleshooting for shielded virtual machines has also been simplified. The VM Connect session mode and PowerShell Direct tools help if you have lost the network connection to a VM and need to update the configuration. In addition, Windows Server 2019 supports the execution of Ubuntu, Red Hat Enterprise Linux and SUSE Linux Enterprise Server in VMs. The server-side Cipher Suite handling of HTTP/2 has also been improved so that connection errors are automatically reduced. To enhance performance, the standard TCP congestion provider in Windows Server has been converted to Cubic in the 2019 version. 
By freely combining device and user licences, medium and large enterprises can purchase precisely the access licences they require. There is no need to spend money on unnecessary packages. Nonetheless, it makes sense to purchase one licence package for 50 staff if there are not as yet any client licences for multiple employees. It is important to note that the Windows Server 2019 CALs are backwards compatible. For instance, they can be used to access a server that is still running Windows Server 2016. 
Shipping Time: 
Ground: 1-2 days processing time. 4 - 10 Business days for delivery