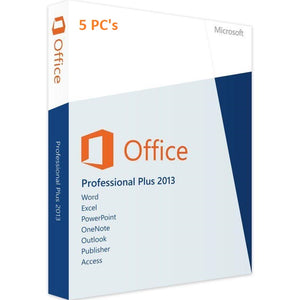 Microsoft Office 2013 Professional Plus - 5 PC - Lifetime License
Microsoft Office 2013 Professional Plus - 5 PC's
Includes

Supports 5 Users / 5 Device
Runs On Windows
1 Installation
Licensed for Home and Commercial Use
Excel 2013
Use Sparklines in Excel to create mini-charts that make it easy to highlight trends in expenses at a glance. Use Slicers to dynamically segment and filter PivotTable data to display precisely what you need, and let the improved Conditional Formatting highlight specific items in your data set with just a few clicks.

Outlook 2013
Save time and take control of your e-mail with Conversation View in Outlook. This feature lets you condense, categorize, and even ignore lengthy e-mail exchanges with a single click, so you can manage large amounts of e-mail with ease.

Word 2013
Create and share professional-looking documents with state-of-the-art editing, reviewing, and sharing tools. The new Design tab provides quick access to features, and Smart Lookup shows relevant contextual information from the web directly inside Word.

Access 2013
Start with prebuilt Access templates or select from community-submitted templates and customize them according to the needs of your project to make collecting information and creating reports easier than ever. Use professional-looking data bar charts created with Conditional Formatting to communicate your analysis clearly and easily.

Publisher 2013
Get professional results from Publisher with photo tools that let you insert or replace photos easily while preserving your look and layout. You can also preview formatting changes before applying them, add photo captions from a library of layouts, and choose from editing options such as changing the shape of photos, pan, zoom, crop, color, and brightness.

PowerPoint 2013
Broadcast your PowerPoint presentation instantly through a Web browser to a remote audience, even if audience members don't have PowerPoint - with Broadcast Slide Show.

OneNote 2013
Create a digital notebook in OneNote to capture and organize all your important customer information - text, images, video, and audio from documents, Web pages, and e-mail messages - in a single, easy-to-access location.


MICROSOFT OFFICE 2013 PROFESSIONAL PLUS - SYSTEM REQUIREMENTS

Platform Windows
Required operating system
Windows 10, Windows 8.1, Windows 8, Windows 7 Service Pack 1, Windows 10 Server, Windows Server 2012 R2, Windows Server 2012, or Windows Server 2008 R2

Processor 1 gigahertz (GHz) or faster x86-bit or x64-bit processor with SSE2
Memory 1 GB RAM (32-bit); 2 GB RAM (64-bit)
Hard disk 3.0 GB available disk space
Graphics Graphics hardware acceleration requires a DirectX 10 graphics card
Sound card N/A
Shipping Time: 
Ground: 1-2 days processing time. 4 - 10 Business days for delivery